So bored without My whole PC. Still unable to do 365 posts. Still unable to use My webcam. LAME! LAME I SAY!

So welcome to a (probably boring) make up post. I snagged some new eye shadows from Sally's when I went on a quest for Hair Bleaching Implements.

The first eye shadow is Femme Couture's Mineral Effects Baked Eye Color in Lotta Latte.




The image that Sally's uses is a bit off. They used a VERY bright light IMHO the color isn't that pale. It's a little... darker. It's a cooler brown, not quite taupe but... and it has a hint of a pale, icy rose pink to it. Add to that a bit of fine gold glitter and POW! It's lovely. It is, however, a daytime or bright light kinda color. It's not very dark against My skin. It wouldn't show up well in the nudie bar.I do love it though. It's very pretty.

The next eye shadow is from Sally Girl. The color is called Black Brown, but I think whoever named it was on crack.




Doesn't look even close to black to Me. The image Sally's uses is a bit darker than the actual shadow. In it's case, it looks only a TINY bit warm as far as browns go... but I've found that it gains some warmth when applied to My skin. This shadow is also not very dark against My skin. It MIGHT work a little better in a dark club than Lotta Latte, but not by leaps and bounds. To Me, it's chocolate meets a tiny hint of taupe with a touch of a pale mauve blush to it. I like how it looks next to the Lotta Latte. They might do wonderful things together, again... in a daytime setting.

The last shadow is also Sally Girl. It's also got a WTF Crack Smokin Much? kinda name. White Chocolate.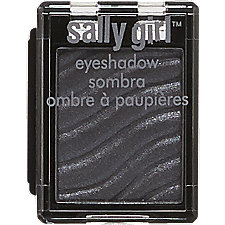 The person who named this one had a BIG crack rock, am I right?

This gray is happily between Gun Metal and Slate. It looks nice in daylight and in dark clubs, and I love it for smokey eyes. You don't need much to go a long way with this one. A little bit will blend quite a bit.

Overall, the 3 colors blend nice, look fantastic, and stay well enough. Lotta Latte was just under $8 and the Sally Girl shadows were 99 cents each.